Well, maybe you don't, but I do.
I just…..but…..okay.
Fam can sing.  Fam has a big assed voice. Fam is talented.  Fam makes monster hits.  That being said…..
Grammys were on last night.  ATCQ killed it with Agent Orange disses and Black Power Fists raised in defiance.  Chano more than put on for his city.  Rih got popped cuz she knew the recording academy is too fucking stupid to recognize the greatness of Anti.  Bruno showed us why no one else should have ever been allowed to do it. TP Henson wore a dress that looked like it was made by Jim Henson and I don't give a fuck who it was wore in honor of.  And then Adele, poor, sweet, put upon, depressed Adele  – with her inexplicable sad sack ass rendition of Fast Love, performed in honor of the late great man almost every woman I know would have relished being the beard of, George Michael.  Listen, Fast Love is my shit….its about a man looking for a one night stand.  When isn't that a good time? Upbeat.  Jam. With Father Figure, Jesus to a Child, and You Have Been Loved all in his library, Fast Love is a questionable as fuck selection.  It was turrible.  The mood of it was horrible.  That lone piano key being struck was Yeezus-level ominously depressing.  Her "let me start over, I've got to get this right" was asinine, cuz nothing was right about this from the beginning.  I thought she sounded just fine, didn't even realize there was an issue, cuz the whole thing was an issue.  Shudder.  There she stood in her sad ever present black garb, with tears starting to streak down the same path on her tear stained face, asking for a redo, which she was granted, which likely led to the co-writer of her smash hit Hello, Greg Kurstin, not being able to say even 'HI MOM' in his acceptance speech, which led to the crowd seeming like it was booing Solange, which…..woosah. Anyway…..I posted something myatastic on THE BOOK in response to this fuckery, to which a very good pal and sometimes Myalogy contributor, Big responded:
"I'm over her and this sad fat chick routine! SING THE FUCKING SONG HOW ITS WRITTEN HEFFA!"
Finally, someone was able to tap into how I feel about this chick.  Before the Thick Girl Mafia of the Body Shamers Sect of the Big Boned Brigade gets their grannies in a knot, this ain't bout her weight, not at all.  This is about her overriding sadness all the damn time.  Ma'am, WHY THE FUCK ARE YOU ALWAYS CRYING?  Grimacing in Pain. Why?  You have won a game that women built like you don't usually win.  You and your instrument are celebrated the world over.  People from South Shore to the French Riviera buy EXPENSIVE assed tickets to your concerts.  Whoever all them sad songs on 19, 20, 45, 55 and 11 are about, they obviously ain't a problem anymore, as you announced last night that you'd gotten married. For me, she is getting dangerously close to that Swift chick, whose "golly gosh me?" antics make her Captain of Team Too Much.  Adele, you do alot of golly goshing who me-ing and I'm fucking sick of that shit. The jig is up.  You are successful.  Does that cure everything?  NO.  But got damn.  Lemonade should have won – fine it didn't.  You can break that Grammy in half if ya wanna…..Bey name ain't going in the books cuz of it.  No one outside the Hive saw that and did anything other than roll their eyes at it.  Then, cuz I tuned out early to catch the last season premiere of the last season of Girls, I log on the Twee-uh, as you would pronounce it, this morning and saw a headline that compelled me to write: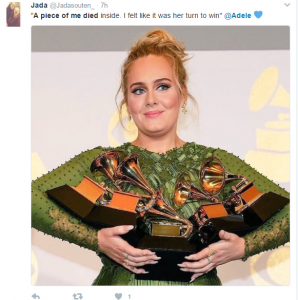 A. PIECE. OF. HER. DIED. INSIDE.
How? I thought all the pieces were already dead.
And more importantly why, Bec, I mean Adele?
Listen take some of this advice, whenever you are feeling small, white, inadequate, not worthy of standing next to Bey, remind yourself:
Our deepest fear is not that we are inadequate. Our deepest fear is that we are powerful beyond measure. It is our light, not our darkness that most frightens us. We ask ourselves, Who am I to be brilliant, gorgeous, talented, and fabulous? Actually, who are you not to be? You are a child of God. Your playing small does not serve the world. There is nothing enlightened about shrinking so that other people will not feel insecure around you. We are all meant to shine, as children do. We were born to make manifest the glory of God that is within us. It is not just in some of us; it is in everyone and as we let our own light shine, we unconsciously give others permission to do the same. As we are liberated from our own fear, our presence automatically liberates others. 
Nelson Mandela said this to Frederick Douglass at the White House Black History Month Lil Meeting this year.  Ask one of your black friends.