Let me start this off by issuing the following disclaimer:
I DO NOT KNOW WHAT HAPPENED IN ANY OF THEIR RELATIONSHIPS.  I ONLY KNOW WHAT THEY SAID AND WHAT I SAW.
This past weekend brought news that Janet Jackson and her kabillionaire husband were parting company after just over 5 years of marriage.  Janet, who I saw some dumb nword call "The New Halle", had two previous failed marriages and seemed to have hit the literal and figurative jackpot.  She was an older woman now, more settled, armed with the knowledge that can only be gained through failed relationships and marrying a man who seemed to be equally yoked $$$$ to her- so what could go wrong?
The same thing that goes wrong often when a woman of her stature finds herself in love.  The answer can be found in this excerpt from Warsan Shire:
and you tried to change didn't you?
closed your mouth more
tried to be softer
prettier
Now Ms. Jackson doesn't need to get prettier, so don't.  But she changed, for him.  She changed her religion.  She changed her dream of a lavish wedding. She changed her music.  She changed her outfits. This: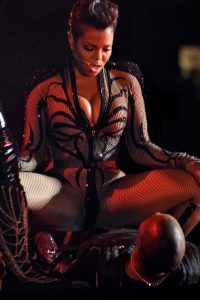 Became this: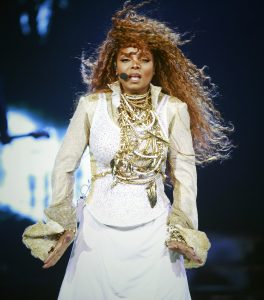 One could look at these pics, one where she is literally covered in chains, as just a by-product of a woman becoming a wife. Being more modest for her man? That's totally understandable?  Him refusing to meet your friends and family?  Refusing to show any concern for her mother's alleged abuse?  Rebuking all forms of your life prior to him? Not understandable at all.
We see this form of abuse – and let's be clear, isolating you and attempting to control your environment is abuse – way too often. Sometimes its under the guise of changing your clothing (Janet) Sometimes it's sabotaging your career (Mary's chicken slanging and sanging under the guidance of her husband-ger). Sometimes its the form of abuse we are most used to seeing (Mel B.'s bruises). Sometimes we characterize it as love, as concern, but it's not.
Last week, I was almost moved to tears – three times to be exact – over these conjoined themes of love, control and abuse.
 Our Queen Mary was on the The Breakfast Club chronicling the decline of her marriage to that hairless ape, who also managed to manage her while keeping an eye out for his next banana.  (pettypology: I hate that dude.  I've always hated him, ever since he showed up in that first pic with MJB with not one, but two beepers on his Boach Celt and zero jobs of note) I had tears in my eyes listening to her say how he told her that he fans didn't love her anymore. How he was quick to jump on her insecurities.  How the man that inspired her to write "Lady" dragged her through so much shit she contemplated suicide.  I wish we could blame him for her singing to Hillary, but she did that on her own. 13 Years.
Mel B. is finally divorcing the man she should have never married once she found out that just because his last name was Belafonte, it did NOT mean Harry was his dad or any other relative for that matter.  This gem of a man got their nanny pregnant then forced her to have an abortion, allegedly blackmailed Mel into participating in threesomes, and regularly insulted her with the following names: "f***ing monkey", "stupid", "fat ugly and old", "dumb" and  "derelict".  He also viciously beat her to the point where she needed to be hospitalized, but he showed kindness sometimes. Sometimes the beatings could be covered with make up.  10 years.
Celeste.  A fictional character on my most recent obsession Big Little Lies, who suffered through one of the most realistic portrayals of domestic abuse I've ever seen.  A woman who seemingly had the perfect life, great kids, handsome successful husband, most amazing home you have ever seen in your life, often found her self on the receiving end of her husband's hands, because he feared one day she would "go right through him."  He wasn't satisfied that she gave up her career as a powerful attorney for him, that she moved away from family and friends for him, that she became a mother for him – his fear still ruled him and unfortunately her.  She tried to become less.  But it would never be enough for someone that saw her as "too much." At least 8 years.
Too much.
She had too many friends.  She was too "popular."  She went out too much.  She was too smart.  Her heels were too high.  She was too pretty. She spent too much time with her family.  She was too visible on social media.  She was too good to be true.
She was too much.
Thank God, I just didn't lose as much time as my sisters up there.
Ladies, it's important to remember that in love, sacrifices will be made.  The sacrifices won't be lowered esteem, bruises nor suicide attempts.  The right man won't want, nor need you to play small.  You will never be too much for him.
you are terrifying
and strange and beautiful
something not everyone knows how to love.